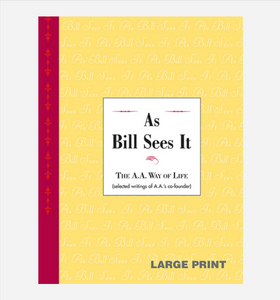 As Bill Sees It - Large Print
A source of comfort and inspiration, this collection of Bill W.'s writings addresses themes such as acceptance, gratitude and spirituality. Excerpted from the Big Book, the "Twelve and Twelve," Grapevine and other A.A. literature. With a topical index to help guide reading and discussion.
Large-print format suitable for those with low vision.
General Service Conference-approved.
Softcover
8.5" x 11"
360 pages
Large print