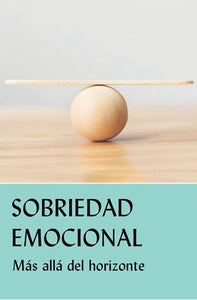 Sobriedad Emocional
Sobriedad emocional: Más allá del horizonte (Spanish-language) presenta poderosas historias de miembros sobrios de Alcohólicos Anónimos que describen las transformaciones positivas que la sobriedad puede traer a medida que practican los principios de AA en todos los aspectos de sus vidas. Las recompensas de la sobriedad emocional son la serenidad, el equilibrio emocional y una mayor alegría de vivir. Traducidas al español de las páginas de Grapevine, la Revista Internacional de AA, las historias ilustran cómo los alcohólicos en recuperación trabajan en el programa de AA, aprenden a dejar de lado el miedo, practican el amor extrovertido y se conectan más con su Poder Superior, su familia y sus compañeros. Uno de los libros más populares de AA Grapevine, ahora disponible en español.

Features powerful stories by sober members of Alcoholics Anonymous describing the positive transformations sobriety can bring as they practice the principles of AA in all aspects of their lives.
The rewards of emotional sobriety are serenity, emotional balance and an increased joy for living. Translated into Spanish from the pages of Grapevine, the International Journal of AA, the stories illustrate how alcoholics in recovery work the AA program, learn to let go of fear, practice outgoing love and become more connected to their Higher Power, family and fellows. One of AA Grapevine's most popular books, now available in Spanish.